July, July...I have some stitchy goals and they are as follows...
Project #1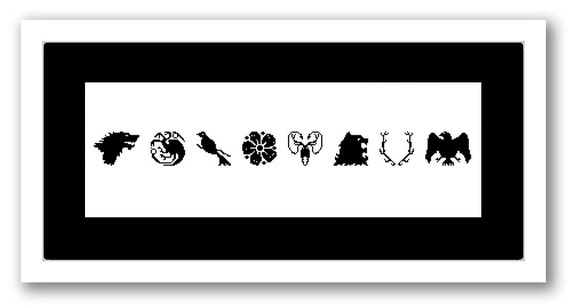 This pattern is a Game of Thrones pattern which I got from Etsy store:
LeilaandStitch
Its for a friend and I have a deadline - Uh Oh! - of 22nd July...only it has to be framed and ready to give on that day. I am hoping that I will be able to get it all stitched this weekend. Admittedly, that is a bit ambitious but I started in the middle and have done the fifth motif and a petal on the 4th and that was just an hour or so last night.
I did buy another Game Of Thrones chart for a a Sampler but I don't have enough time for that one so its going in my stash with the other chart I bought this week which is also a sampler...
Game of Thrones Sampler (also from Etsy)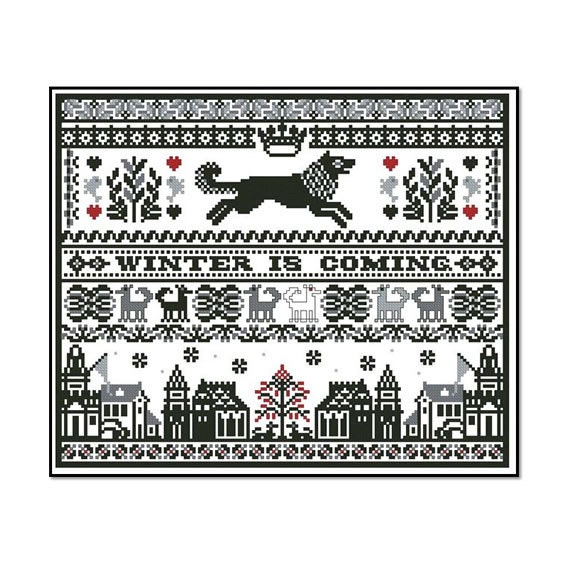 And then...Long Dog Sampler...Death by Cross Stitch is also joining the stash...
I couldn't resist!
Project #2
I have decided to add another SAL to my list and its Lakeside Needleworks Durene Jones Fantasy SAL. The border chart has been received and I am intending to stitch it on Polstitches Blue Moon fabric, which I am being told is too dark and may clash so of course it makes me more determined to use that one, lol! I actually don't think it will be that bad....but watch this space as I could easily change my mind...in a heartbeat!
Project #3
I have long wanted to challenge myself to learn how to do parking and have decided to join in with the HAED challenge three, not least because its deadline is my birthday! Whoop! I bought some Magic Guide fabric for it, so just need to decide on the chart. it will either be Treasure Hunt bookshelf....
or....Panthera Leo Lion which I have fallen in love with...
They are both quite different, lol!
and Project #4
I shall be trying to finish all the black on the top row of a mini A light in the Dark..
Other goals, plan Holland (only four weeks to go!)