Editing from my phone is complicated! So this is in a random spot, reason being the ever so important news! I found 225!! In a matchbox I was sizing. Doh! But...yayyyy!
Halloween is only 4 and a half months away - which seems quite long - but in stitching hours the witching hours are short!
I have seen many great stitches for Halloween but only once stitched for it, that was for a stitching exchange, and would you believe it but my burglar stole my exchange piece!! YES! It was that good. It was so good that I had it on display all year round and sadly it was never recovered when the burglar was arrested.
There are some great Halloween cross stitch designs out there and some of the popular ones you do see pop up on peoples blogs, and its great, because its so inspiring to see the finished article.
Here are some that I would like to have in my Halloween stash (surely its time to stash by season, category, colour? lol!)....
This one is a very folksy traditional design and I have seen a lot of very similar designs to this. I really think the choice of fabric can make or break this and I like the grey.
2.
Halloween Banners - Vanessa, Fotolia
In contrast to all that grey, my true nature springs forth with my love of colour, and I also thought these might stitch up quite quickly as the colours aren't too many and you can easily tweak that and still have the same effect. They can each be stitched separately which is another good thing.
I only saw this film recently after watching the TV series which seems now to be a very backward way of doing things, and alas I haven't read the book. Of all the sleepy hollow themed designs this is my favourite by far. I think keebs has it....I wonder if she'll stitch it! We can only hope, right?
If you want a design that is less creepy Halloween and more fun with the kids Halloween then this could be it. It has all the right icons included in the designa nd plenty of colour - I would only add 'Happy' above the houses.
I saw this and hadn't realised it was mini's - so stitch them individually or put them altogether, I like them altogether and I think its a fun design. A little bit scary and a little bit funny.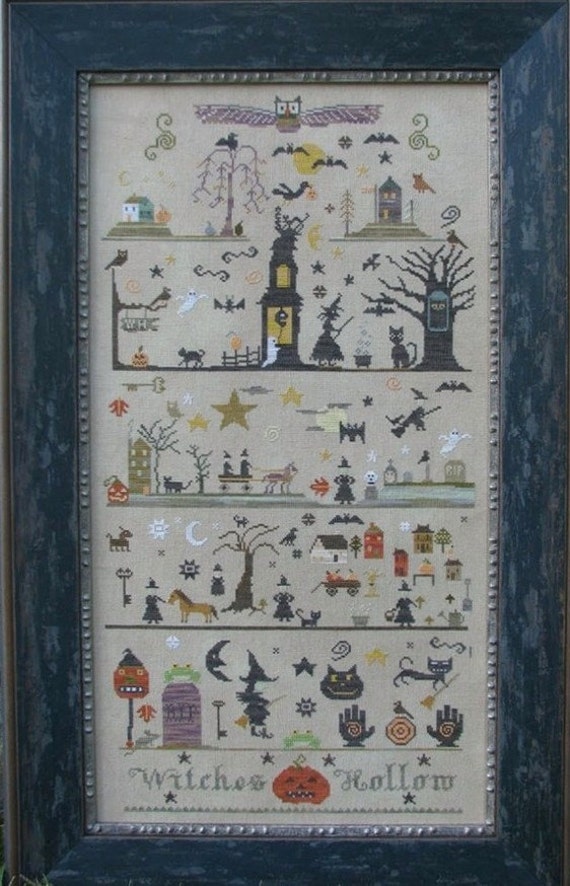 This is quite a big sampler type design in that olde worlde fashion - nothing has been left out!

I saw this, and thought...YES! Black cats, they get such a bad rap but are so adorable and so beautiful. I like the style and am disappointed its a vintage design that isn't still available unless through ebay :(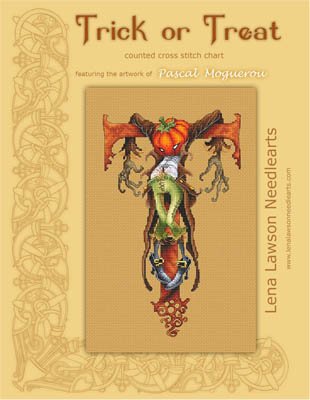 Okay so THIS, I HAVE to have...no, seriously! Are you looking at it?? Its a scarecrow - nothing screams Halloween horror movie like a creepy eyed scarecrow. But it has such gentle well matched colours and is a pretty design.
I have seen these many times before and think they are such delicate and elegant designs. So if you have an elegant home and avoid anything gimmicky then you might like to stitch these. Such a subtle nod to Halloween.
Will you be stitching for Halloween? If so, what! Tell me! Tell me!